SILK ROOM
CURRENT TEMPORARY EXHIBITION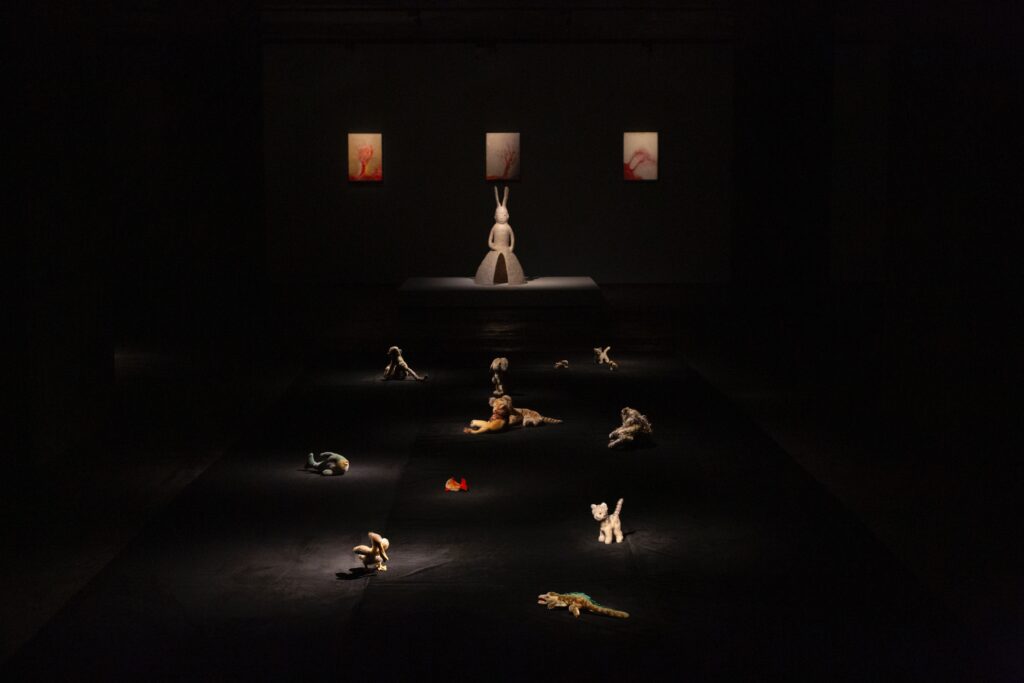 The second Silk Room exhibition, When Animals Become Art. Leiko Ikemura at The Feuerle Collection, curated by Désiré Feuerle, is on view from 7 July until 7 January, 2023.
A selection of works by the artist Leiko Ikemura, realised between 1990 and 2022, will be juxtaposed to personal cuddly toys collected by the artist, immersed in a refined, dreamlike light scenery, specially designed by Désiré Feuerle for the installation at The Feuerle Collection.
The exhibition will symbolically bring into being an intimate and colourful nest, where precious animal sculptures, made of cast glass, glazed terracotta, patinated bronze or papier-mâché, will interact with small plush creatures from a cosy domestic environment.
Being one of the recurring themes chosen by Ikemura throughout her entire body of work, the representation of animals and animal-hybrids will carry the viewers into a secret world, leaving the door open for our fantasy to read possible symbols, metaphors, and enigmatic references to Japanese legends, and into the vibrant, pulsating creations of the artist.
Leiko Ikemura was born in Tsu, in the Mie Prefecture, Japan, and she is currently based in Berlin and Cologne, Germany.
After studying in Japan and Spain, she moved to Switzerland to pursue a career as a full-time artist and then to Germany, where she had her first solo show in Bonn, in 1983. A Swiss citizen, she has very early become a significant player of the Swiss and German art scenes, actively contributing to the cultural discourse, and teaching as a professor at the Universität der Künste, Berlin, Germany, since 1991 and at the Joshibi University of Art and Design, Tokyo, Japan, since 2014. Her works are part of more than 80 public and private collections, such as The Centre Pompidou, Paris, France, the State Museum Collections in Berlin, Germany, and The MOMAT, the National Museum of Modern Art, Tokyo, Japan.
To date, Ikemura has had more than 500 solo and group exhibitions, in over 29 countries worldwide.
The Silk Room is a new exhibition space, in the upper ground floor of the former Telecommunications Bunker from WWII permanently hosting The Feuerle Collection, which has been renovated by John Pawson.
Dedicated to temporary art shows and interdisciplinary cultural projects, including performances, artist talks, screenings and concerts, the Silk Room has been inaugurated in September 2022, with the exhibition Edmund de Waal and Unseen Pieces from The Feuerle Collection, which was on view until May 1, 2023.
When Animals Become Art. Leiko Ikemura at The Feuerle Collection is open to the public from 7 July 2023 until 7 January 2024. The permanent exhibition remains open at the same time. Tickets are available for purchase online.
To coincide with Berlin Art Week, an artist talk between Leiko Ikemura and Désiré Feuerle will take place on Friday 15 September at 4 pm at The Feuerle Collection. Please reserve a spot here. The artist talk will be accessible live via our Instagram.
We thank Leiko Ikemura and Philipp von Matt for the kind cooperation.